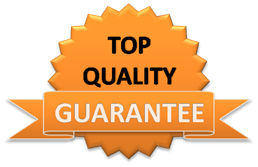 Recurring cleaning offers our clients the best value by far. When our client becomes a recurring customer, we are able to offer deep discounts for our cleaning services, as well as reduce the total cleaning time (without sacrificing quality). In turn, this allows you to enjoy reduced costs and increased convenience. NO LONG-TERM CONTRACT IS REQUIRED for you to take advantage of our recurring services, we can simply offer better pricing and convenience based on the frequency of your orders. However, please remember that if you go without cleaning for more than 45 days, the next cleaning will be considered first time cleaning. Please refer to the tables below for pricing on all the recurring cleaning packages, or click on the category that suits your needs to go see the prices.
FLEXIBILITY: One-time service & recurring services available.
QUALITY: Professionally trained staff & Top Quality Guarantee.
CONVENIENCE: Schedule your cleaning online, by email, or phone.
AFFORDABILITY: Great pricing with terrific quality. Best Value Guarantee.
SUPPORT: Total customer support: by phone, online, and in person.
SECURITY: Insured and Bonded. All our workers are legal in the US and pass a background check.
Click on the package that suits your needs best to see pricing:
Square Footage of Your Home
Monthly Cleaning/Maid Service
Estimated Hours In Your Home
1 or 2 maids
3 or More Maids
Up To 1,000 Sq.Ft.
2
$113.20
-
1,001 Sq.Ft. - 1,500 Sq.Ft.
2
$125.35
-
1,501 Sq.Ft. - 2,000 Sq.Ft.
2.5
$141.50
$213.50
2,001 Sq.Ft. - 2,500 Sq.Ft.
2.75
$155.65
$227.65
2,501 Sq.Ft. - 3,000 Sq.Ft.
3
$169.80
$366.32
3,001 Sq.Ft. - 3,500 Sq.Ft.
3.75
$174.75
$403.11
3,501 Sq.Ft. - 4,000 Sq.Ft.
4
$199.52
$439.90
4,001 Sq.Ft. - 4,500 Sq.Ft.
5
$263.19
$476.69
More Than 4,500 Sq.Ft.
-
Call For Pricing: 303.319.0596
---
Square Footage of Your Home
Bi-Weekly Cleaning
Estimated Hours In Your Home
1 or 2 maids
3 or More Maids
Up To 1,000 Sq.Ft.
1.5
$80.66
-
1,001 Sq.Ft. - 1,500 Sq.Ft.
2
$94.10
-
1,501 Sq.Ft. - 2,000 Sq.Ft.
2.25
$107.54
$179.54
2,001 Sq.Ft. - 2,500 Sq.Ft.
2.5
$134.43
$206.43
2,501 Sq.Ft. - 3,000 Sq.Ft.
2.75
$154.59
$226.59
3,001 Sq.Ft. - 3,500 Sq.Ft.
3
$168.03
$240.03
3,501 Sq.Ft. - 4,000 Sq.Ft.
3.5
$188.20
$260.20
4,001 Sq.Ft. - 4,500 Sq.Ft.
4
$215.08
$287.08
More Than 4,500 Sq.Ft.
-
Call For Pricing: 303.319.0596
---
Square Footage of Your Home
Weekly Cleaning
Estimated Hours In Your Home
1 or 2 maids
3 or More Maids
Up To 1,000 Sq.Ft.
1.5
$73.16
-
1,001 Sq.Ft. - 1,500 Sq.Ft.
1.75
$87.21
-
1,501 Sq.Ft. - 2,000 Sq.Ft.
2
$99.76
$171.76
2,001 Sq.Ft. - 2,500 Sq.Ft.
2.5
$126.36
$198.36
2,501 Sq.Ft. - 3,000 Sq.Ft.
2.75
$146.31
$218.31
3,001 Sq.Ft. - 3,500 Sq.Ft.
3
$159.61
$231.61
3,501 Sq.Ft. - 4,000 Sq.Ft.
3.25
$179.56
$251.56
4,001 Sq.Ft. - 4,500 Sq.Ft.
3.75
$199.52
$271.52
More Than 4,500 Sq.Ft.
-
Call For Pricing: 303.319.0596
---
Square Footage of Your Home
2+ TIMES/WEEK Cleaning
Estimated Hours In Your Home
1 or 2 maids
3 or More Maids
Up To 1,000 Sq.Ft.
1.25
$65.80
-
1,001 Sq.Ft. - 1,500 Sq.Ft.
1.5
$72.38
-
1,501 Sq.Ft. - 2,000 Sq.Ft.
1.75
$92.12
$164.12
2,001 Sq.Ft. - 2,500 Sq.Ft.
2.25
$118.44
$190.44
2,501 Sq.Ft. - 3,000 Sq.Ft.
2.5
$138.17
$210.17
3,001 Sq.Ft. - 3,500 Sq.Ft.
3
$151.33
$223.33
3,501 Sq.Ft. - 4,000 Sq.Ft.
3.25
$171.07
$243.07
4,001 Sq.Ft. - 4,500 Sq.Ft.
3.75
$190.81
$262.81
More Than 4,500 Sq.Ft.
-
Call For Pricing: 303.319.0596