Professional Denver Medical Office Cleaning
Denver Cleaning Group Co. offers customized cleaning solutions for Denver medical offices. With DCG, you know you have a specialized cleaning team that understand the specific cleaning and disinfection needs of medical facilities.
Our highly skilled medical office cleaning professionals possesses the safety and technical skills necessary to work in both patient-care areas and surgical suites. Members of our team understand the risk of blood-borne pathogens in a medical environment and follow industry best practices to maintain compliance with Joint Commission on Accreditation of Healthcare Organizations (JCAHO).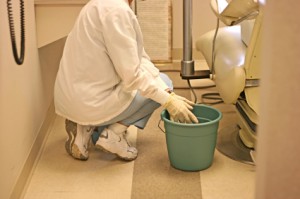 FLEXIBILITY: One-time service & recurring services available.
QUALITY: Professionally trained staff & Top Quality
CONVENIENCE: Schedule your cleaning online, by email, or phone.
AFFORDABILITY: Great pricing with terrific quality. Best Value Guarantee.
SUPPORT: Total customer support: by phone, online, and in person.
SECURITY: Insured and Bonded. All our workers are legal in the US and pass a background check.
---
Denver Medical Office Cleaning Professionals
At our Denver Cleaning Services center, we continually review all local, state, and federal health, safety and infection control requirements, including Occupational Safety and Health Administration (OSHA) and the Environmental Protection Agency (EPA) cleaning guidelines. We refer to OSHA for guidance on safety and training and EPA on all cleaning processes fluids and chemicals. DCS is Denver's medical office cleaning partner you can trust to establish a program that ensures your cleaning standards are maintained with the utmost confidence.
We conduct thorough employment verification, reference and background checks of all personnel before they are placed in a work setting. DCG educates your team on the specific needs of your property, personnel, and patients. Medical screening and vaccinations of our medical cleaning specialists is rigidly tracked, kept up-to-date and documented so we have personnel that can report when you need them. When your DCG team arrives on site, they are ready to meet your expectations, taking pride in a job well done.
Our medical office cleaning teams offer medical office cleaning programs to address your every need, including:
Daily Cleaning - performing regular cleaning services in functional areas as determined by you and according to usage and need for ongoing sanitation
Periodic Cleaning - including tasks that are in addition to and support Daily Cleaning, such as scrubbing/waxing floors, glass cleaning, etc.
Special Needs Cleaning - including tasks required on an as-needed basis, such as washing walls, shampooing carpets, construction cleaning, etc.
Call us today at 303.319.0596 or contact us online for a free, no-obligation onsite review and learn why DCG is the Denver medical office cleaning company that you, and your patients, can trust.